There's nothing more fun than twist balloon art, and we specialize in some unique twisting.
Twist Balloons Include:
Super Octopus
Dragons
Hearts-In-Hearts
Spiderman Hats
M Mouse
Princess Crowns
Puppet Performances
Face painting
Twist Balloons
Songs
and much more!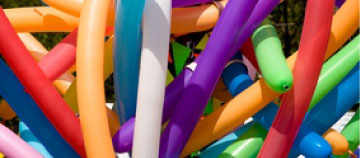 Twist balloons are not only wild fun, but also an ideal and inexpensive take-away favor from the party!
Best Show in the Galaxy!
- New York Times
The Perfect Gift!
- Madonna